When I last wrote on here, I was just getting ready for the Summit Art Festival, and now it has come and gone, and I have to say it was a pretty great weekend.
First of all, the weather was pretty great... a little odd, but hey, that's Missouri. Friday was really hot, humid, and very windy. Then Saturday and Sunday were inexplicably colder. There were some unfortunate incidents with tents blowing around, and particularly for the student pavilion that caught a gust of wind, and an entire row of metal screens went tumbling down like dominoes while some work was hanging on them. So a couple of pieces were unfortunately damaged.. and just painful to see that. I felt bad for the school pavilion having to go through that.. there was a lot of great work there.
But for the good news... I pulled off a 2nd place win in the Summit Art pavilion this year. They even got the mayor to present the awards to everyone this year, so that was pretty cool.
Mayor Rhoads and me next to my work.
While I didn't sell any work, the 2nd place win was great. And on top of that, all sorts of little cool things were happening all weekend that made up for not selling. For one thing, the overall Best of Show winner for the festival Andrew Batcheller had some very very nice things to say about my work, and went out of his way to introduce himself and compliment me on my work. It was an awesome gesture on his part, and he seemed like a pretty cool guy... so here's a shoutout to him. I don't know if he has a website, but look him up and go check out his work.
I also want to say what a great group of artists I shared the Summit Art pavilion with this year. I think there seemed to be a much better sense of fellowship than last year. Although I was told on Sunday that I've been "voted out" of the Summit Art pavilion for next year. Not that they don't like me, but they want to see me succeed in my own booth next year, which was really encouraging to hear. So it's probably gonna happen.
Then on Sunday, by the time the festival was winding down and I was exhausted from the weekend and leading youth group stuff at church in the same week, I was having a nice conversation with a couple of the ladies who also had work in the pavilion about various things. One of the things that came up was the drawing class that I wanted to teach earlier this year that sadly fell through. One of the ladies mentioned how she wanted to sign up for it, but it just didn't work with her schedule. So between the three of us in our conversation, we decided to try again with a portrait painting class on our own schedule in our own setting. I just thought how awesome it was that these two ladies were willing to pay me for portrait painting lessons, and that both of them were willing to open up their homes to host it. Long story short, within the hour we had a plan for a 6-week portrait class, and I found out that two more ladies in the pavilion were also up for the class. At that point I realized that we actually had something really cool happening here. As if that wasn't great enough, I was at a figure drawing session yesterday and just mentioned the class to another person, and just like that we got a 5th person to join the class. Due to space issues, we're keeping it at 5 for now, but who knows what will happen later. I am hoping it will expand and that we'll eventually be able to invite others in. I'm hoping I'll be able to keep the plan for this class as simple and straight-forward as I can, and just keep to basic fundamentals and stick to really simple but effective techniques.
Portrait underpainting with Raw Umber
Another fun thing this week was that I just got a new book on the 19th century Russian painter Ilya Repin. I haven't started reading yet, but flipped through the book and it had a lot of great quality images of his work. I'm really wanting to familiarize myself with this period of artists and their work, and Repin is definitely one that I'm liking a lot. I'm expecting two more books later on next month that I pre-ordered on a great landscape painter Ivan Shishkin and figurative painter Anders Zorn. I'm also eventually wanting to order a couple more books on Edouard Dantan and Jean Leon Gerome, but those are a bit more expensive.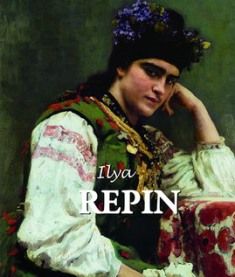 So this was a pretty long update, but there was a lot of stuff to update about. It was pretty amazing how eventful the Summit Art Festival weekend was, and I'm already looking forward to next year. For now, it's back to work and I hope to have some more award-worthy work to come. We'll see what happens. Stay tuned for more show announcements and more art!